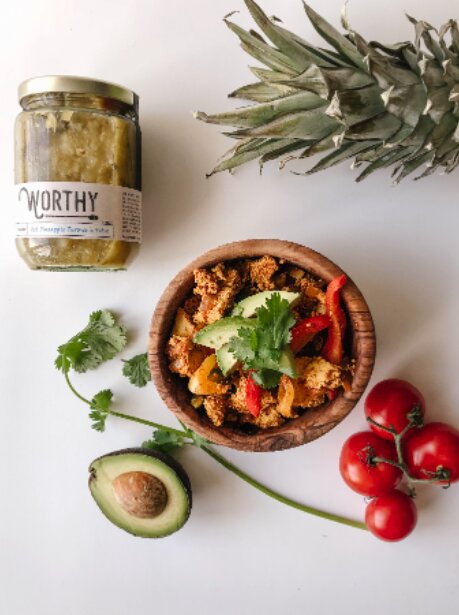 Worthy's Hot Pineapple Tofu Scramble
This flavourful vegan dish is perfect for those relaxed Sunday mornings. Worthy's Hot Pineapple Turmeric Salsa gives a sweet heat that pairs nicely with the tofu and the burst of cherry tomatoes leaving every bite better than the last.
Prep Time: 20 mins
Cook Time: 7 - 10 mins
Cool Time: 5 mins
Total Time: 35 mins
Servings: 4
What You Will Need
Ingredients

Spice Mixture:

1/4 cup warm water

1 tsp garlic powder

1 tsp ground cumin

1/2 tsp chilli powder

1/2 tsp turmeric

1 pinch of salt
‍‍

Cooked Mixture:

2 packages 8 oz. extra firm tofu

1/2 cup thinly sliced red onion

1/2 cup thinly sliced orange bell pepper

2 tbsp avocado oil (Any oil will work)
‍

Toppings:

1/2 cup Worthy's Hot Pineapple Turmeric Salsa

1/2 cup chopped cherry tomatoes

1/2 cup diced avocado

1 tbsp diced cilantro

Utensils

1 Large Skillet

1 Roll of Paper Towel

1 Small Bowl

1 Set of Measuring Tools

1 Knife
Directions
Step 1: Pat tofu dry between paper towels and set aside.

Step 2: In a small bowl combine warm water, garlic powder, ground cumin, chilli powder, turmeric and a pinch of salt, then set aside.

Step 3: Thinly slice the red onion and orange bell pepper and set aside.

Step 4: Place a large skillet over medium heat and add avocado oil.

Step 5: Once the oil is hot, add the onions and peppers to the skillet and cook until slightly softened.

Step 6: With your hands crumble the tofu into chunks and add to the skillet with the vegetable mixture.

Step 7: Mix tofu and vegetables in the skillet to distribute the heat evenly.

Step 8: Evenly add the spice mixture to the skillet and stir to coat the tofu and veggies.

Step 8: Cook for 7-10 minutes, until slightly browned, stirring occasionally. 

Step 9: Serve in 4 bowls and top with diced cherry tomatoes, avocado, fresh cilantro and Worthy's Hot Pineapple Turmeric Salsa.

Step 10: Enjoy!
Example product title
Regular price
Sale price
$19.99 USD
Unit price
per
Sale
Sold out
Share
View full details