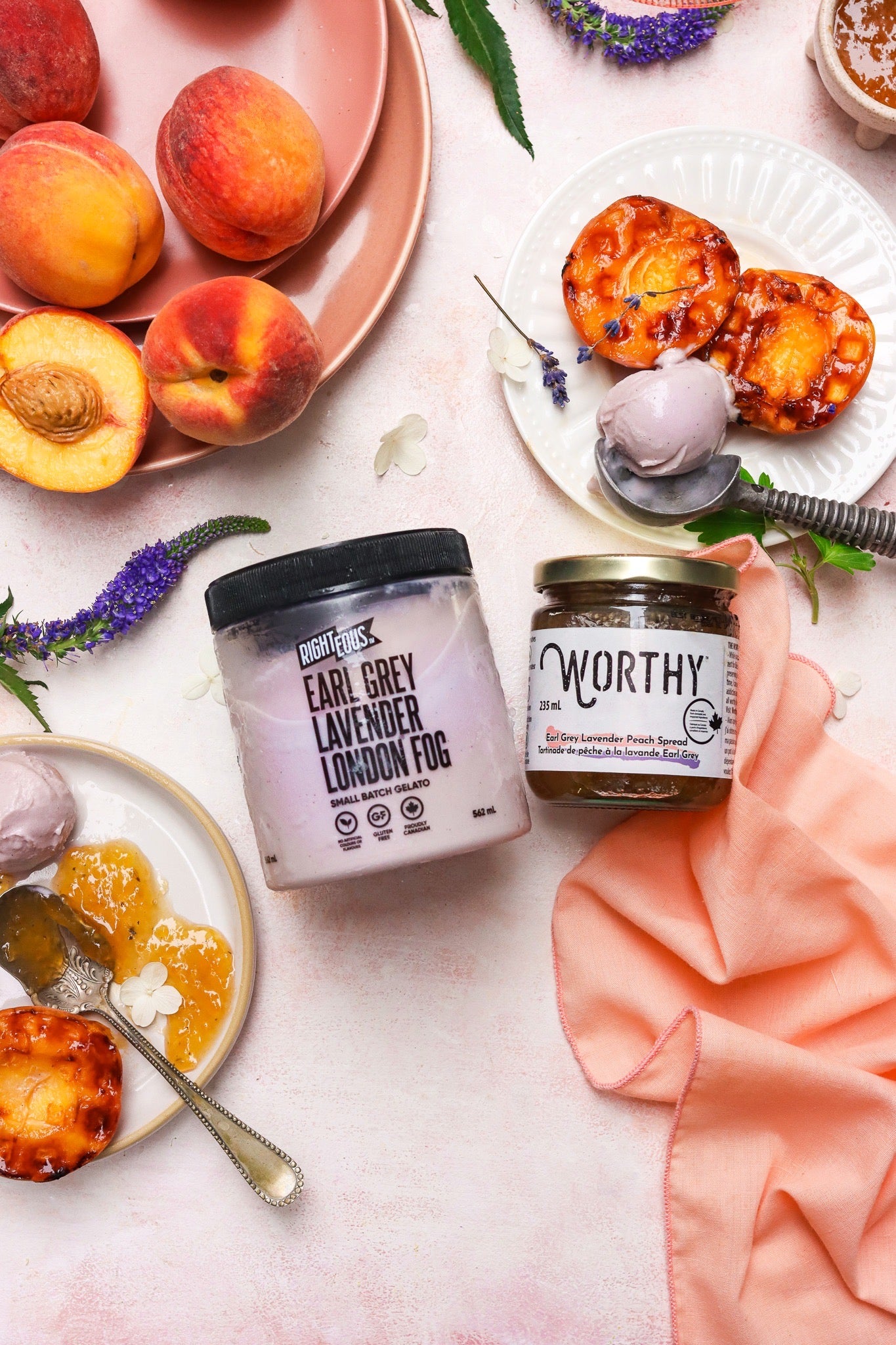 Worthy's Grilled Peach Halves with Gelato and Jam
Experience the epitome of summer indulgence with Worthy's Grilled Peach Halves topped with velvety Gelato and a luscious drizzle of Earl Grey Lavender Peach Jam. Whether served as a refreshing dessert for a gathering or a personal treat on a summer afternoon, this creation promises to capture the essence of summer in every bite. Get ready to elevate your dessert game and embark on a journey that transforms simple ingredients into a symphony of taste sensations.
Prep Time: 5 mins
Cook Time: 2 mins
Cool Time: 10 mins 
Total Time:  17 mins
Servings: 2
What You Will Need
Ingredients

3-4 Tbsp Worthy Earl Grey Lavender Peach Jam

2 ripe peaches, halved and pitted 

4 scoops Righteous Earl Grey Lavender London Fog Gelato 

Cooking spray

Utensils

1 Set of Measuring Tools

1 Pastry Brush

Waffle Press

Ice Cream Scoop
Directions
Step 1: Preheat the waffle maker. Spray it with cooking spray once hot. 

Step 2: Arrange the peaches cut side up on a tray. Brush the peaches with jam.

Step 3: Place the peaches cut side down on the waffle maker. Close it and cook (for about 2 minutes) without flipping until peaches are lightly charred on the cut side.

Step 4: Transfer the peaches to a serving plate.

Step 5: Top each peach with a scoop of gelato and a tsp of Worthy Earl Grey Lavender Peach jam. 

Step 6: Enjoy!