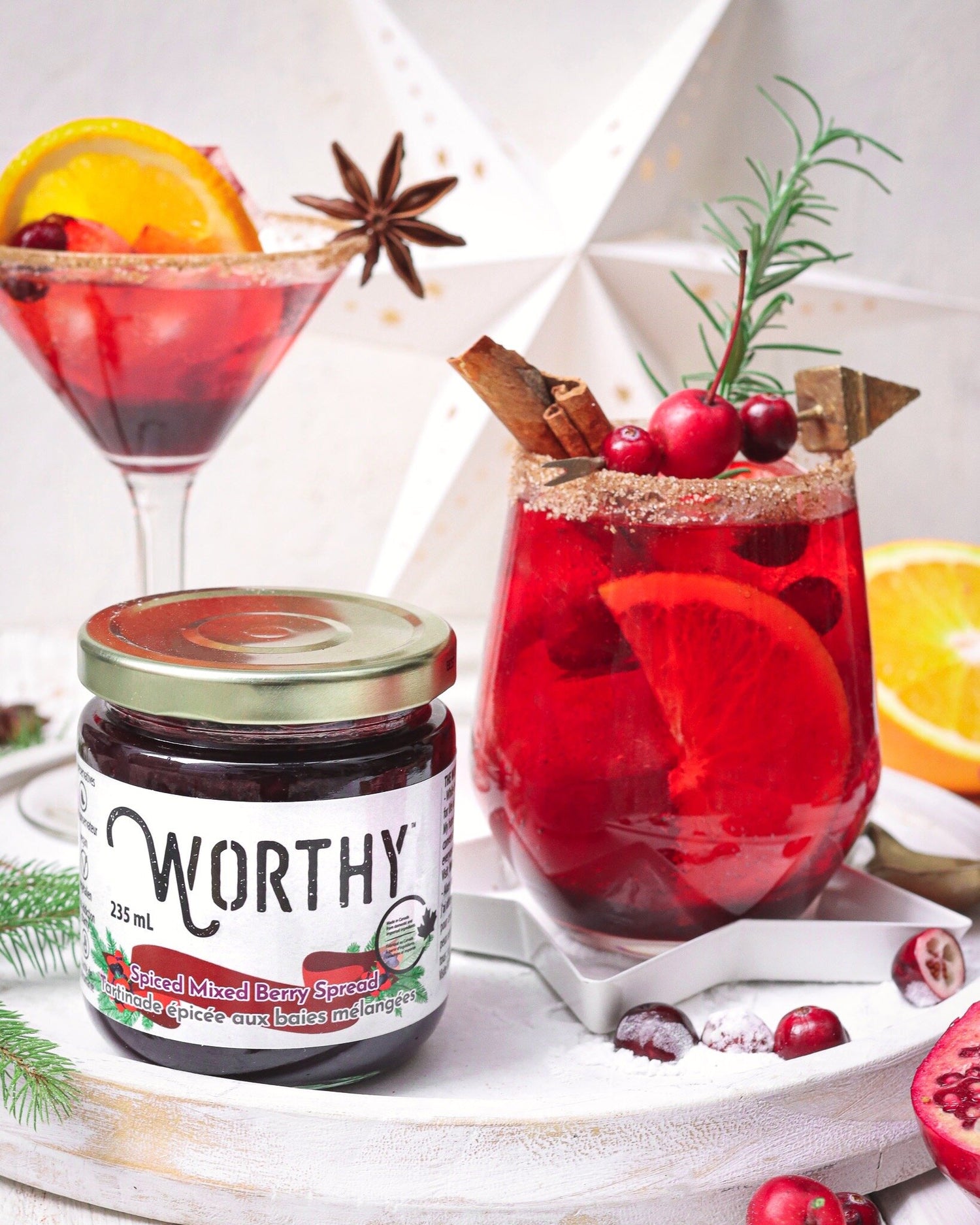 Worthy's Holiday Pomegranate & Berry Mocktail
The holidays are about including everyone and what better way to incorporate the whole family than by creating this fresh and tasty mocktail featuring Worthy's Spiced Mixed Berry Spread. The sweetness from Worthy's spread and the cinnamon sugar rim pair deliciously with the tartness of the pomegranate.
Prep Time: 10 mins
Cook Time: 0 mins
Cool Time: 0 mins
Total Time:  10 mins
Servings: 4
What You Will Need
Ingredients

1 cup ice cubes

3/4 cup (100%) pomegranate juice

1/2 cup sparkling water

1/3 cup (100%) orange juice

1/3 cup Worthy's Spiced Mixed Berry Spread

1/4 tsp ground ginger

2 sprigs of fresh rosemary

2 cinnamon sticks

2 star anise 

Fresh cranberries, orange slices, cinnamon sugar (optional)

‍

Cinnamon Sugar Ingredients

1/2 cup granulated sugar (or brown sugar)

2 tbsp ground cinnamon

Utensils

4 Glasses

1 Set of Measuring Tools

1 Shallow Bowl (for the cinnamon sugar)

1 Whisk

1 Bar Spoon
Directions
Step 1: Add sugar and cinnamon to a bowl and combine together making sure to break up any clumps.

Step 2: Rub the rims of glasses with orange and dip them into the cinnamon sugar. 

Step 3: Divide ice cubes among glasses. Add Spiced Mixed Berry Spread to each glass. 

Step 4: Pour pomegranate juice and orange juice and ginger powder.

Step 5: Top with sparkling water, dividing evenly.

Step 6: Stir to combine.

Step 7: Garnish glasses with orange slices, fresh cranberries, pomegranate seeds, cinnamon sticks and rosemary sprigs. 

Step 8: Enjoy!