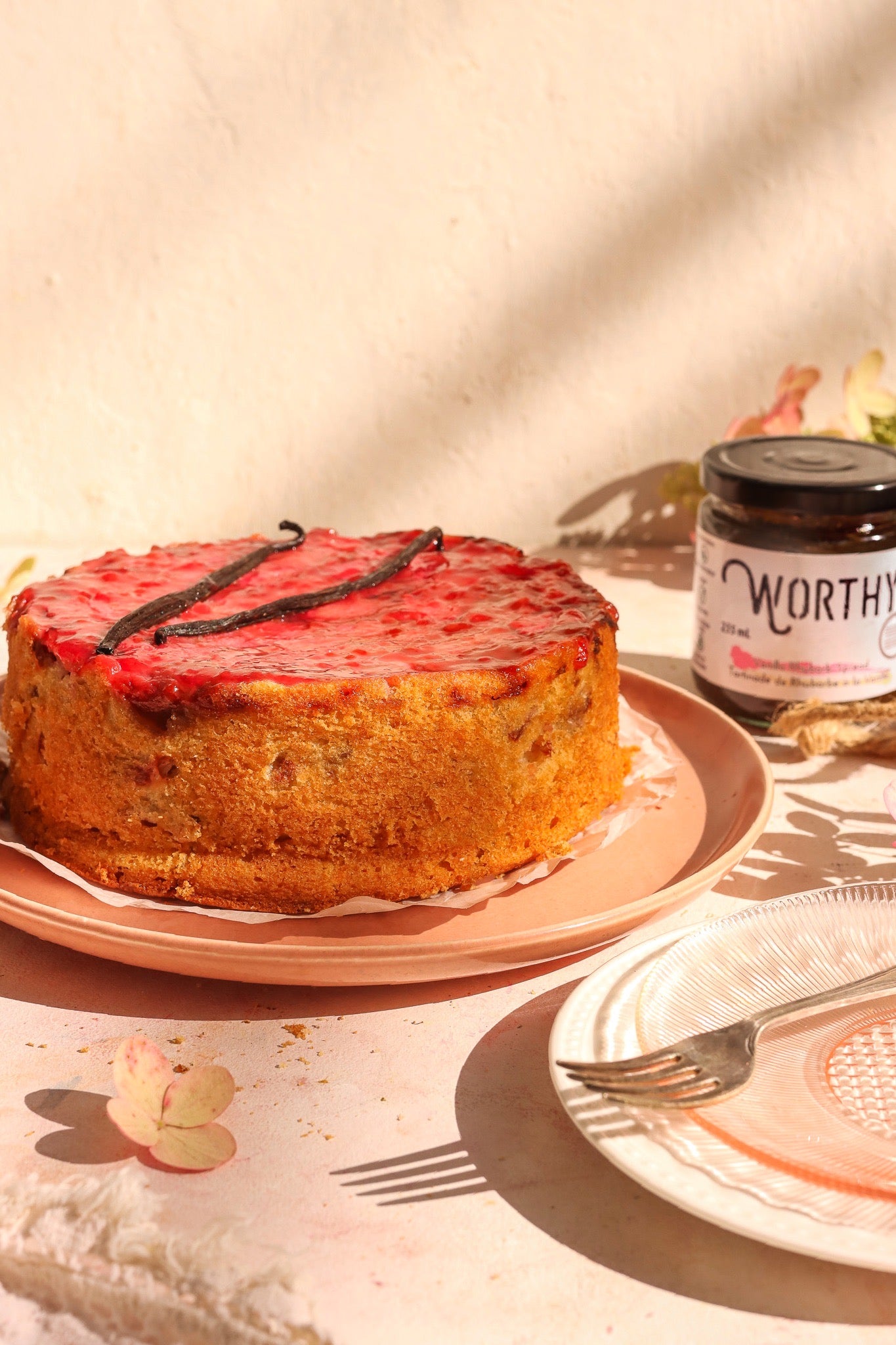 Worthy's Upside-Down Rhubarb Cake
Worthy's Upside-Down Rhubarb Cake is as visually appealing as it is delectable. As the cake bakes, the rhubarb caramelizes into a sweet-tart flavor, creating a perfect texture with the moist cake base. The addition of Worthy's Vanilla Rhubarb Jam brings a sweet delicate flavour that beautifully complements the tartness of the baked rhubarb. Whether shared as a dessert at special occasions or savored as a comforting treat with a cup of tea, this Upside-Down Rhubarb Cake promises to be a new favourite.
Prep Time: 30 mins
Cook Time: 35 mins
Cool Time: 12 mins 
Total Time:  77 mins
Servings: 8
What You Will Need
Ingredients

For the rhubarb pattern:

2-3 cups rhubarb (depending on how big is your cake pan)

2 Tbsp Worthy Vanilla Rhubarb jam




For the cake batter:

1/2 cup margarine 

1/2 cup brown sugar 

2 eggs

1 cup all purpose flour

1 tsp baking powder

1/2 cup milk of your choice 

1 tsp vanilla extract

Zest of one lemon 

1 tsp lemon juice 

1/2 cup of finely chopped rhubarb

Utensils

1 Set of Measuring Tools

1 Large Bowl

Stand or Hand Mixer

Baking Pan

Spoon

Knife
Directions
Step 1: In a large bowl, cream together the margarine and sugar until light and fluffy using a stand mixer or electric mixer.

Step 2: Add in the eggs, flour and baking powder, mixing until well combined.

Step 3: Add the milk, vanilla extract, lemon juice and zest to the batter, stirring just until incorporated.

Step 4: Cut the rhubarb stalks into 2 cm pieces and arrange them so they'll fit in the pan.

Step 5: Butter the edges of the pan and place a circle of parchment paper in the bottom. Butter the parchment paper then arrange the rhubarb pieces on the cake pan and add Worthy Vanilla Rhubarb jam in between the pieces.

Step 6: Cut the remaining rhubarb into small pieces and toss them with a spoonful of sugar until coated and add them to the cake batter.

Step 7: Pour the batter over the rhubarb stalks.

Step 8: Bake the cake in a preheated oven at 180°C (convection heat) for 35 minutes or until a toothpick inserted in the center comes out clean.

Step 9: When the cake is done baking, remove it from the oven and let it cool down for 10 minutes. Place a serving plate and turn the cake over. Remove the parchment paper.

Step 10: Brush more jam over the top of the rhubarb to enhance their color. Let the cake cool for a few minutes before serving.

Step 11: Enjoy!